Minus 8 Verjus, Brix-
BRIX verjus
---
Brix Ver Jus is in a league of it's own. Minus 8 has been renowned for making premium vinegars coveted by professional chefs in the ice wine style for years. You may have never tried verjus. It is produced from the early harvest of the wine grapes beginning in August through the final harvest in January. Verjus means "green juice". In order to strentghen the vines and intensify the flavor of the grapes, they are thinned over the late summer. These green grapes are pressed and finally filtered with no additives and verjus is the result. An acidic , yet non fermented grape juice. It is wonderful in salad dressings, perfect for pan sauces and aiolis as well as a wonderful addition to delicate poaching. It offers more depth of flavor than lemon juice but not the bracing acidity of vinegar.  The bright, clean  acidity does not compete with wine pairings, making it perfect for delicate seafood dishes. Chefs are returning to classics which includes a renewed appreciation for verjus. Their enthusiasm  should be contagious .
Verjus is an excellent ingredient for a gourmet 'shrub' for your cocktail bar.
---
Artisan/History/Story
A winemaker in the Niagra region of Canada decided to try crafting a wine vinegar rather than traditional balsamic style vinegars. Made from sweet Canadian grapes in an honored vineyard The outcome was sweet and dark, like a raisin. The grapes are harvested at "Minus 8" degrees, in the tradition of famed Canadian Ice Wines.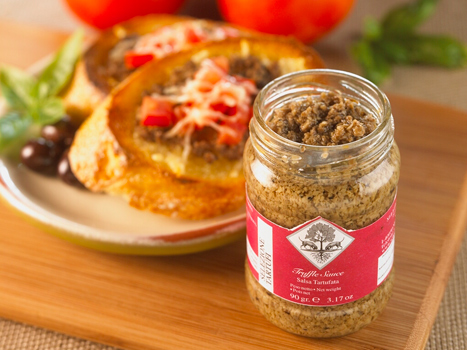 How to Prep/Store
Although it is acidic, do store in your refrigerator after opening. It should keep for three months. This is a delicious treat for splashing on your grilled vegetables, meats,sliced fresh chilled beets, fruits and just about anything else you care to try. Use it to deglaze your pan after sautéing pork chops, shrimp or fish. It makes the perfect base for a pan sauce such as buerre blanc. Make your own homemade mayonnaise with verjus as the acid in lieu of vinegar or lemon.
Recipe Ideas
Once you begin substituting verjus in your recipes you won't need much encouragement.  Simple mocktail-cocktail with verjus and club soda. Garnish with a few fresh raspberries and a lemon wedge.