Porcini Mushroom Sauce – Amerigo
---
Amerigo porcini mushroom sauce is a real treat. Chunks of fresh porcini swimming in a flavorful light vegetable sauce. Simple and delicious. Crafted from the richness of the lands, taking ingredients harvested near their homes and offer it to those of us less fortunate . . .
No flour, thickeners, stabilizers, etc. Fresh regional vegetables, including garlic from the Voghiera village and Cervia sea salt, along with old standards like shallots, carrots, zucchini, leeks, etc. The recipe is from Amerigo, a popular trattoria in the Savigno area. Read more below in our Artisan section. The porcini mushrooms are the star of the show and their deep, woody flavor which makes them so sought after shines through.
Perfect tossed with pasta but equally wonderful spooned over chicken breasts, a dollop on a crostini . . . you will find plenty of uses for this delightful porcini mushroom sauce. (Or just a spoon when no one is looking!)
How's this for dinner. Cook package of pasta, open jar of Amerigo porcini mushroom sauce, pour on and toss. Grated Parmesan and DONE. Well, perhaps a bottle of wine?
Porcini mushroom sauce – Amerigo 200 grams
---
Temporary Unavailable
Artisan/History/Story
Amerigo is a wonderful trattoria  and "dispensa" in Italy. Amerigo & Agnese first began serving locals in their trattoria in 1934. Located in the heart of Emilia-Romagna in the charming town of Savigno (just outside of Bologna). Amerigo would procure the freshest local ingredients for Agnese to prepare in the kitchen. Three generations later they have a loyal following of local customers. The region is home to world famous truffles (Savigno is called "Truffle town" with an annual white truffle festival), prosciutto, hams, balsamic vinegar, and, of course, sauce bolognese!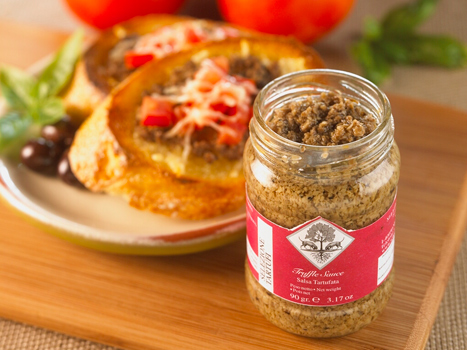 How to Prep/Store
Comes in a lovely 200 g glass jar. Store in pantry until ready to use. After opening refrigerate any unused portion (not sure how any would go unused--but just in case!). Perfect amount to toss with one pack of pasta.
Recipe Ideas
This wonderful sauce made from porcini mushrooms and a light vegetable sauce makes for a quick supper. Cook porcini mushroom pasta according to package (6 minutes) reserve cupful of cooking water. If desired, saute a package of grass-fed ground beef (grass-fed makes ALL the difference when it comes to ground beef), a few fresh vegetables such as bell peppers and onion. Pour jar of sauce, vegetables and beef if using, onto hot pasta. Toss adding reserved cooking liquid to create glossy beautiful sauce. Top with fresh grated Parmesan. Dinner in about 15 minutes . . . way better than take out I must say!