Trentasette Red Pesto with Truffle
---
This red pesto with truffle is a delicious sauce for everything from pasta to bruschetta. This combination of tomatoes, cheeses, nuts, and truffles is a winner! (Does contain tree nuts.) Trentasette red pesto (with truffle) is a silky yet robust sauce that makes for a quick pasta or an easy appetizer for unexpected guests. This sauce should be a staple in your pantry! Made from a small Italian producer who makes a wonderful line of prepared ingredients that rival homemade. (See our Artisan section below to learn more.)
6.3 oz jar. ( 180 g)
My favorite "hostess gift" is a package of imported pasta (Filotea Tagliatelle) and red pesto with truffle.  It is always well received!
Red pesto with truffle will become your go-to pantry staple.
---
Artisan/History/Story
This small Italian producer utilizes the finest from Italian culinary staples: tomatoes, Parmesan and Romano cheeses, pine nuts, olive oil, etc. Then supplemented with black summer truffle! These are crafted in small batches in classic Italian tradition. ENJOY.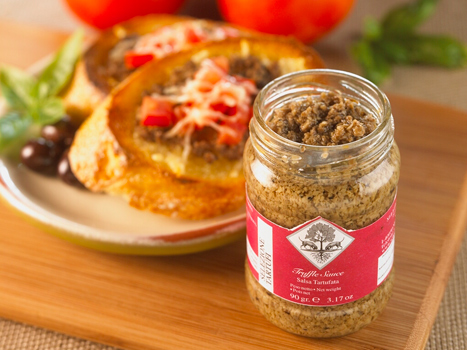 How to Prep/Store
Excellent prepared truffle sauce. This 6.3 oz jar is the perfect size to dress a package of pasta--or serve with bruschetta and cheeses. It will be a welcome addition to your pantry. Use by date on packaging. If you don't use all of this red pesto with truffle at once, just pour a little fresh olive oil on top and refrigerate as you would other pestos.
Recipe Ideas
EASY! One package of Morretti Papperdelle pasta with wheat germ (or your favorite pasta you have on hand). Boil as directed in salted water. Meanwhile, open a jar of Trentasette red pesto with truffle and a bottle of your favorite wine. Pour all but a spoonful of red pesto in a nice big pasta serving bowl. Drain pasta (always reserve a little of the cooking water-- 1/2 cup or so). Add pasta to bowl and toss. Stir in a few spoonfuls of the pasta water--toss some more. Put the last spoonful on top of the pasta--sprinkle on some fresh shaved Parmesan (have plenty more for the table). Pour you and yours a glass of the open wine and ENJOY.