Truffle Sauce – Selezione
17.5 oz jar truffle sauce
Truffle Sauce 16 oz economy size
---
Enjoy the "diamond of the kitchen" in this aromatic truffle sauce. It has a wonderful silky texture that is a delightful complement to a variety of dishes. Aromatic Tuber Aestivum (black) truffles are combined with black olives and champignons (mushrooms) for a sauce rich in texture and flavor. Fresh truffles are both costly and difficult to get year-round. This truffle sauce is the perfect sauce to have on hand. Spread on sandwiches, toss with pasta or stir into rice or mashed potatoes to create a special treat. Mix a spoonful into some cream cheese and the possibilities are endless. An excellent addition to your gourmet pantry. This large jar will last for months- simply top off with olive oil after each use to help keep fresh.
---
Artisan/History/Story
Selzione tartufi  is a respected truffle harvester from Italy. They harvest fresh truffles in the wild with specially trained dogs. After a truffle is located a special handcrafted tool is used to unearth the buried treasure. Truffles grow most often with the roots of oak, hazelnut and poplar trees in a symbiotic relationship. This artisan truffle producer is a world leader.They have a state-of-the-art facility where these underground culinary jewels are crafted into delicious year-round ingredients for your gourmet pantry.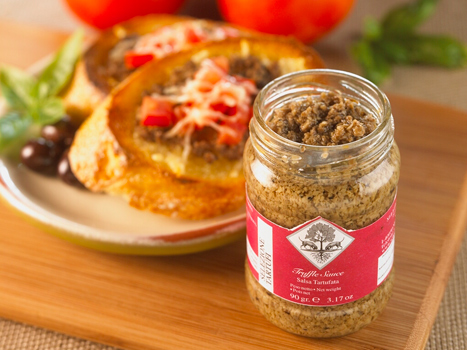 How to Prep/Store
Refrigerate after opening. May be enjoyed up to one year if refrigerated. Like all pestos, pouring a little olive oil on top will help seal and extend freshness. A perfect way to turn an ordinary evening special. Toss a few spoonfuls into a bowl of fresh cooked pasta, top with a generous grating of Parmesan and you have a "special" accompaniment to most any meal. Try spreading a little on your next grilled burger. A little goes a long way!
Recipe Ideas
Toss a few spoonfuls into a bowl of fresh cooked farfalle (bow-tie) pasta--along with some artichoke hearts, sun dried tomatoes and olives. Grate a generous (at least a 1/2 cup) of fresh Parmesan and fresh-cracked pepper. If you have some leftover Wagyu beef or pork tenderloin or even rotisserie chicken, add in for a super and quick meal! The truffle sauce takes it to the next level. See recipe for Power Greens with truffle sauce.